RhinoCAM
A VisualCAM Plugin
MecSoft Corporation's plug-in to McNeel's Rhino 7 3D modeling software brings VisualMill's functionality into the Rhino environment. RhinoCAM does everything that VisualMill does, while RhinoCAM Expert includes all the functions of VisualMill Expert and RhinoCAM Pro offers the full functionality of VisualMill Pro, from within the Rhino workspace.
For someone who likes Rhino, wants to develop CNC toolpaths for their Rhino models, and wishes to avoid the hassle of learning a new interface, the combination of Rhino 7 and RhinoCAM would be a good choice. VisualMill's toolbars are simply added to the Rhino workspace, so one can go seamlessly from model creation to G-code. Since VisualMill already opens Rhino's 3dm file format, this avoids the extra steps involved in closing one application and opening another. One can use Rhino's familiar curve creation tools, and see them pop up as "regions" in the VisualMill window. Surfaces and meshes are also recognized on creation, and one can go back and forth as needed, adding reference geometry as it's required.
Do you need Rhino Software? We have that available as an accessory.
This plug-in comes with a fairly lucid "Getting Started" guide, and an illustrated Online Help section that helps to demystify the process of toolpath creation for the uninitiated.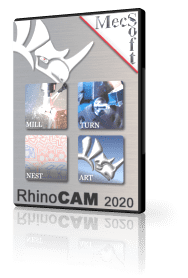 Standard Edition
The Standard Edition of RhinoCAM comes with a good range of 2D, 2½-D, and 3D capabilities and a variety of machining strategies. If you've got a 3-axis CNC machine and want to do normal curve-driven machining tasks such as facing, profiling, pocketing, and 3D carving based on surfaces or meshes, this Standard version is all you're likely to need.
Expert Edition
The Expert Edition of RhinoCAM adds support for a 4th axis, both in continuous and indexing modes. This makes it possible to carve all the way around a part as it rotates parallel to the x axis, or to cut two or more sides of the part from different angles. Curve-based continuous machining operations such as 4th axis facing, pocketing, profiling and engraving, as well as 4th axis machining operations based on solid or surface meshes are available.
Professional Edition
The Professional Edition of RhinoCAM is ideal for producing molds, dies and tooling, advanced woodworking, prototyping, and general job-shop machining. This product boasts powerful toolpath generation strategies coupled with means of efficiently controlling the cutting tool while executing a range of sophisticated machining and re-machining operations, without sacrificing ease of use. Suitable for demanding users with exacting manufacturing requirements, this product configuration includes all the functionality included in the Expert edition described above, and adds a number of other advanced capabilities.
Premium Edition
The Premium Edition of RhinoCAM adds to the capabilities of the Professional Edition. This new version of VisualMill adds 5-axis continuous machining functionality and other cutting-edge features. Suitable for highly sophisticated machining requirements such as aerospace manufacturing, advanced mold making and sculptural woodworking, this package includes such machining methods as surface normal machining, swarf machining, and surface flow machining. This version also includes a custom post-processor to handle the unique kinematics of your 5-axis CNC machine.
Manufacturer: MecSoft Corporation's RhinoCAM Site
Versions Sold
Click one or many checkboxes below to filter choices. Click the info ⓘ icon next to a checkbox to scroll for info about that option.
RhinoCAM
Standard Edition
List Price: $1500
Our Price: $1350
RhinoCAM
Expert Edition
List Price: $2500
Our Price: $2250
RhinoCAM
Professional Edition
List Price: $5000
Our Price: $4500
RhinoCAM
Premium Edition
List Price: $10000
Our Price: $9000
Add Accessory
Rhino 7 Software
List Price: $995
Our Discount Price: Add to Product and Email for Price Quote or call (510) 568-4298