Modeling Hardware & Software
Table of Contents
Introduction
A 3D model is like a drawing, but instead of being limited to a two-dimensional representation of a part or scene, it contains all the information needed to construct an actual part in three dimensions. Some 3D modeling programs work by expanding on linear drawings, extruding curves in space or stretching surfaces between them. Others let users work directly with solid objects, either as adjustable "primitive" forms (cones, cubes, spheres, etc.) or as amorphous blobs of virtual "clay" material which can be pushed into shape with a set of tools. Some allow 2D to 3D conversions of various sorts, or allow 2D renderings to be derived from 3D scenes, with reflections, refractions, and shadows precisely calculated. Much 3D modeling is directed towards creating animations and imagery, but our focus is on producing models that can be directly transformed into physical objects via CNC milling or additive rapid prototyping processes.
Cubify Design
Inexpensive 3D Modeling Software from 3D Systems

With the recent rise of enthusiasm for home 3D printing, many people have started looking at 3D modeling as a way to generate or modify objects for printing. Most get started with free software, but often get frustrated with the limitations these programs impose. If you want more capabilities than the free software provides but don't have much money to spend, take a look at the Cubify software from 3D Systems. The Cubify series of products are an embodiment of 3D Systems' big new idea: creating more accessible versions of much more expensive software (and hardware) products, so that non-professional users can create their own content and have something to do with their 3D printers.
Cubify Design is an entry-level version of Geomagic Design (formerly Alibre) that's geared for 3D printing of mechanical types of parts, like motors, rotors and gears. It allows you to make dimensioned 3D part models with parametric constraints, so for instance you can specify a wall thickness that won't change even if you scale up the whole model. And then you can combine it with other parts to create an assembly, automatically check it for interferences, and actually test the mechanism in the software by giving a joint a flexibility constraint. It gives you 2D blueprint-type drawings as instances of orthogonal 3D views. It can import IGES, STEP, SAT, DXF, DWG and it outputs mesh models as STL, suitable for 3D printing or CNC milling.
The Cubify Design Site has some tutorials available.
Manufacturer: 3D Systems
Version Sold:
Geomagic Design Expert
High-end full-featured parametric solid CAD modeling Software from 3D Systems
The highest-level mechanical design package in this family is Geomagic Design Expert, sometimes just called Geomagic Design (formerly Alibre Design Professional). To the capabilities of Cubify Design, it adds the ability to import 3D files as STEP, IGES, SAT, 3DM (Rhino) and export them as STEP, IGES, SAT and STL. It can handle mechanical assemblies with more parts and complexity. It imports and exports 2D files as DWG or DXF. It will generate 2D sections from plane intersections with 3D objects and generate 3D PDF files of your virtual 3D objects for easy sharing. Among other features too numerous to mention, it also gives you photo-realistic rendering and a voluminous library of standard pre-modeled parts.
Sheet Metal
To the features of Cubify Design and Design Elements, Geomagic Design Expert adds advanced sheet metal modeling, with the ability to create boxes with tabs and bends, or lofted ducting parts with one shape on one end and another on the other. It has tools for creating flat patterns from curved solid objects, and lets you "unfold" models you might have imported from a part library to create flat sheet-metal parts.
Dynamics
As well as a large collection of static parts, Geomagic Design Expert comes with a library of moving ones, such as:
With these you can build up an entire working mechanical assembly, test all the components for interferences or collisions, then animate it to see how it works. These animations can be saved and stored, embedded in a Powerpoint presentation, even posted to your social networks.
In Geomagic Design Expert, you can save multiple variations on a part in the same file. It has advanced tools for recognizing and modifying design features like faces, holes, bosses and pockets, even in imported files, or de-featuring them for FEA analysis. It allows you to record data about the performance of your models to Excel spreadsheets, or use functions described on spreadsheets to modify the actions of the mechanical parts as they are animated or simulated.
Download an evaluation copy of Geomagic Design.
Here's a list of free Video Tutorials for Geomagic Design.
Manufacturer: 3D Systems
Versions Sold:
Geomagic Design Expert (formerly Alibre Design Professional)
with sheet metal, dynamics, and assembly interference checking
List Price: $1,999
Our Discount Price: Email for Price Quote or call (510) 568-4298
Geomagic Design Expert Educational
One year license for the professional full-featured product
Requires proof of status as full-time student, faculty, or educational institution. Some restrictions on for-profit use. See the Terms Page for details on proving educational status.
Organic Modeling with Haptic Force-feedback Tools
Geomagic Sculpt, Freeform, Freeform Plus, and the Touch Haptic Arm
For organic sculptural modeling, 3D Systems has a range of products: Geomagic Sculpt, Freeform, and Freeform Plus, that use a "haptic interface" (from a Greek word meaning to fasten onto or touch); an articulated arm with force-feedback resistance that actually lets you feel your virtual parts as you work on them in the computer. Developed by Sensable Technologies over the last decade, this family of products was bought by 3D Systems and incorporated into their product line so they'd have something to offer to right-brained artistic types as left-brained engineers. But when they "feel the clay" for the first time, most people say "Wow!" no matter which side of their brains predominate—it adds a whole new dimension to the experience of modeling on a computer that feels natural to those used to working with physical tools on real materials.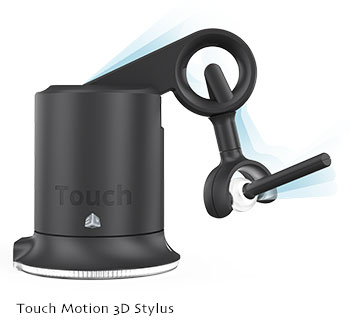 The base package in this series of products is called Geomagic Sculpt, and it comes with the new Touch haptic arm, which hooks up to your computer using an ethernet connection. It has a collection of simple but powerful tools which are easy to understand and get going with. The basic idea is that when your parts are made from virtual clay that you can push and pull on interactively, feeling what you're doing as well as seeing it, you have a much better degree of control over exactly how their shapes evolve and interact. The inherent ambiguity of seeing a shaded representation of your part and trying to deduce how the form really is shaped is much reduced when you can actually feel it—you can actually work on parts of your model you can't see in the viewport. 3D models can be imported from 3D scanners or other programs as STL, PLY or OBJ, and converted to the program's native voxels (volumetric pixels) for styling and elaboration. In the latter two formats, vertex color information is also transferred into the application. One can create forms directly in the program using either basic "primitive" shapes and modifying them with the program's carving and smudging tools, or start with closed linear shapes, inflating, revolving, extruding, and cutting them with other shapes constructed in the program's Sketch function. There are tools for smoothing and shaping, mirroring, attracting for embossing and texturing the clay using graphic images, tools for tugging on the surfaces or decimating large models for easy export. It's even possible to paint directly on the clay with "brush" or "airbrush" tools, or to apply photographs to their surfaces. 3D curves can be imported into the program as IGES or Adobe Illustrator (ai), or curves can be drawn on the clay parts and exported as IGES for surfacing in another program. With the TextureKiln function, it's possible to "bake" a high-res model onto a low-res armature, so that highly detailed models can used for creating highly detailed animations (in an animation program) without bogging down your system. Once exported to mesh formats (OBJ, PLY, STL and ZCP), models created in Sculpt can be used directly for 3D printing, or run through a CAM program for carving on a CNC machine.
Geomagic Sculpt and the Touch Arm Haptic Modeling System
List Price: $3,900
Our Discount Price: Email for Price Quote or call (510) 568-4298
Geomagic Touch—The arm only, no software included
List Price: $600
Our Discount Price: Email for Price Quote or call (510) 568-4298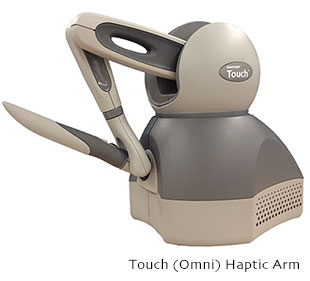 The next level of functionality is represented by Geomagic Freeform, which can support either the Touch or the higher-quality Touch-X arms, and adds a panel of subdivision modeling tools, making sharper edges and corners than can be achieved with voxel modeling alone possible. It also has a greater range of carving tools, like razors, knives and scrapers, and more ways of manipulating the "clay", including Toothpaste—a continuous stream of material, and Pipe, which adds material around any curve. One can also modify the clay by adding and moving curves, emboss along a curve, or distort the whole part with a cage. Powerful patterning functions allow sub-parts to be arranged regularly or individually on the surface of a master part, and annotation tools allow the user to pin notes to any part so that data pertaining them can be preserved along with the model file. It's possible to distort the model in various ways, including a cage deform. The latest Freeform 2014 has added even more features—hole filling techniques, automatic mesh repair, feature fitting and alignment, and mouse support, which enhance its ability to manage scan data in Freeform's unique haptic modeling environment.
Here are some videos showing how the system works for various tasks like cleaning up and integrating scanned data, using subdivision surfaces, and industrial design.
Click this link for more information on Freeform from the manufacturer's site.
Geomagic Freeform and the Touch Arm Haptic Modeling System
(includes one year's maintenance and hardware warranty)
List Price: $9,900
Our Discount Price: Email for Price Quote or call (510) 568-4298
Geomagic Freeform and the Touch X Arm Haptic Modeling System
(includes one year's maintenance and hardware warranty)
List Price: $19,500
Our Discount Price: Email for Price Quote or call (510) 568-4298
The highest-level haptic hardware-software system we offer is Geomagic Freeform Plus, which includes advanced tools for mold design and manufacturability, making tasks like constructing split joints, cores and mold cavities, or generating parting surfaces and mold inserts much simpler. It has the ability to create surfaces of NURBS patches spanning intersecting curves created on the "clay" surfaces, so very smooth results are possible. It has enhanced capabilities for measuring mass properties and analyzing piece-to-piece fit. It's also available with the deluxe Touch-X arm as well as the Touch.
Here's a brochure that explains a little more about how these devices work.
Here is more information on the Features of Freeform Plus on the manufacturer's site.
Manufacturer: 3D Systems
Geomagic Freeform Plus and the Touch Arm Haptic Modeling System
(includes one year's maintenance and hardware warranty)
List Price: $17,500
Our Discount Price: Email for Price Quote or call (510) 568-4298
RhinoArt 2014 and Rhinoceros 5.0
We offer this bundle which combines the popular general-purpose Rhino 3D modeling application from Robert McNeel and Associates together with MecSoft's RhinoArt 2014 plug-in that enables it to convert bitmaps to raised mesh reliefs or vectors, to create "puffed" volumes from closed vectors in a simple operation, and to use Boolean operations to combine, intersect or subtract mesh volumes. These abilities complement Rhino's NURBS-based modeling features, which have made it one of the most popular modelers on the planet, used for designing everything from jewelry to jets. It has an intuitive interface, which accepts typed-in commands or menu clicks; it performs smoothly where other programs bog down; it's accurate and adaptable. Its acceptance of plug-ins has led to a wide availability of specially adapted programs that integrate seamlessly into the Rhino workspace, adding all sorts of functions to its toolkit. Rhino can create, edit, analyze, and translate NURBS curves and surfaces, which take up a lot less memory in the computer than polygon meshes, remaining accurate even when highly magnified. Rhino has a fully functional demo on its web site, allowing you to save 25 times. Rhino 5.0 is a powerful and extremely versatile program that compares favorably to some programs costing a lot more.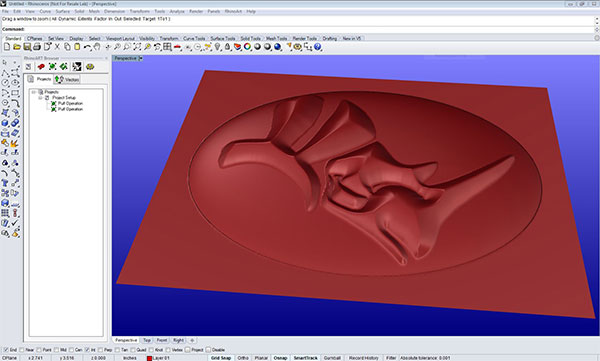 Here's a link to MecSoft's RhinoArt page where you can download a demo.
Here's a link to McNeel's Rhinoceros site.
Manufacturer: Robert McNeel & Associates and MecSoft Corporation
Version Sold:
IronCAD XG and Inovate
IronCAD is a design, collaboration and simulation program with a unique and uncluttered interface honed over many years to provide the ultimate in flexibility and ease of use.
Since its launch in 1998, IronCAD has pioneered hybrid modeling, which bridges the gap between rigid history-based parametric design and direct editing of solids, surfaces and features like holes, bosses, and grooves. When a part is added to the Scene, its history is automatically reordered to reflect the design intent, and the part is aligned and mated with any others present. Now in its "neXt Generation" version, this approach is proving more useful than ever.
With support for both major parametric kernels—Siemans PLM's Parasolid and ACIS from Dassault Systemes, it allows users the flexibility to create without having to worry about whether their models will work with one or another of them. IronCAD imports and exports nearly every major 2D and 3D format, including IGES, STEP, X_T, CATIA, Pro-E, Unigraphics, Solidworks, Inventor, and STL as well as point clouds, so designs created in other programs or captured with scanners can be imported and modified without incompatibility problems.
Its unique Triball tool gives users the ability to easily position, push, pull and stretch parts and assemblies, or copy and array parts or groups of parts, while a part's properties are easily accessible with a right mouse-click. Each part feature is accessible with "handles" that allow easy resizing, and all changes are automatically saved to the history tree.
Leveraging a web-based library of more than 100 million pre-designed 2D and 3D parts from more than 500 manufacturers, the program lets you drag them into the application and work with them right away, without having to redesign them from scratch. It also has advanced tool wizards for constructing things like bolts and gears conversationally, and one can easily create ones own catalogs of commonly-used parts. Using IronCAD, sheet metal parts are easy to design, as it contains a special module dedicated to their creation. Collision detection is built in, so assemblies will work without agonizing readjustments. It's not necessary to save each component of an assembly in a separate file; a scene with thousands of parts can be saved in one file, or broken up into as many as is convenient.
It is especially useful for collaboration across a whole company, with a stand-alone 3D viewer and tools for generating annotated 2D parts drawings, photorealistic renderings, PDF documents in 2D or 3D, assembly instructions and keyframe animations of mechanical assemblies in motion. A fully functional node-locked copy of NEi Nastran's FEA simulator is included with the program, so parts can be analyzed for stress before being finalized. STL import and export is supported as well, so parts can be sent to a 3D printer for verification before production is initiated.
The flagship product is IronCAD XG, but one can also order an inexpensive version, Inovate, which has most of its features except the sheet metal module, 2D drafting, and some of its advanced 3D part modification abilities. Inovate is especially useful for people in a company who need to collaborate on a design without needing full control of every function. "Named-user" licenses are standard with these products, but hardware-locked licenses are available for an extra charge.
Click this link for a Feature Comparison between versions.
Manufacturer: IronCAD
Versions Sold: