Introduction
A 3D model is like a drawing, but instead of being limited to a two-dimensional representation of a part or scene, it contains all the information needed to construct an actual part in three dimensions. Some 3D modeling programs work by expanding on linear drawings, extruding curves in space or stretching surfaces between them. Others let users work directly with solid objects, either as adjustable "primitive" forms (cones, cubes, spheres, etc.) or as amorphous blobs of virtual "clay" material which can be pushed into shape with a set of tools. Some allow 2D to 3D conversions of various sorts, or allow 2D renderings to be derived from 3D scenes, with reflections, refractions, and shadows precisely calculated. Much 3D modeling is directed towards creating animations and imagery, but our focus is on producing models that can be directly transformed into physical objects via CNC milling or additive rapid prototyping processes.
MoI 3D
"Moment of Inspiration" from Triple Squid Software Design
MoI 3D is a NURBS modeling program developed by Michael Gibson, the man who originally designed Rhinoceros for McNeel and Associates. NURBS modeling offers great flexibility for making complex compound-curved surfaces without sacrificing precision—zoom into a NURBS curve, however far, and it doesn't break up into segments. It's always the same mathematically-defined curve. Surfaces based on these splines can therefore be very smooth without taking up a lot of memory, and Boolean operations can work very well. MoI 3D is a lightweight modeling system that's easy to learn and very stable. Rather than trying to do everything for everyone, it concentrates on what NURBS do best—hard surface models useful for artists and product designers—without requiring them to master a huge number of commands, icons, and modes corresponding to functions they don't need. Free of the constraints posed by parametric solids modelers but more precise than mesh modeling tools, it's the perfect vehicle for those who wish to quickly work out a 3D concept and export it to their CAM software for CNC machining.
MoI 3D was specifically designed to work well on pen tablet computers, without needing a keyboard in order to function fully. It has an excellent NURBS-to-mesh translator for producing OBJ and other mesh format files; many users have bought it just for that function alone. It works just fine on computers that aren't hooked up to the Internet, and doesn't upload your data into the cloud. It's software that you own and don't have to pay for continuously, although every few years a new version is announced which you can optionally upgrade to for a portion of the original price. In the meantime, you can participate in the development process by downloading a working beta version and interacting with the designer in an open forum, submitting requests for desired features, and giving feedback on new iterations. And it doesn't hold your models hostage by locking them up in a proprietary format that will only open with this particular program. MoI 3D licenses are cross platform - you receive both the Windows and the Mac version installers and the same license key can be used with either or both of them. MoI 3D is offered at an extraordinarily reasonable price.
Manufacturer: MoI 3D
Version Sold:
Organic Modeling with Haptic Force-feedback Tools
Geomagic Sculpt, Freeform, Freeform Plus, and the Touch Haptic Arm
For organic sculptural modeling, 3D Systems has a range of products: Geomagic Sculpt, Freeform, and Freeform Plus, that use a "haptic interface" (from a Greek word meaning to fasten onto or touch); an articulated arm with force-feedback resistance that actually lets you feel your virtual parts as you work on them in the computer. Developed by Sensable Technologies over the last decade, this family of products was bought by 3D Systems and incorporated into their product line so they'd have something to offer to right-brained artistic types as left-brained engineers. But when they "feel the clay" for the first time, most people say "Wow!" no matter which side of their brains predominate—it adds a whole new dimension to the experience of modeling on a computer that feels natural to those used to working with physical tools on real materials.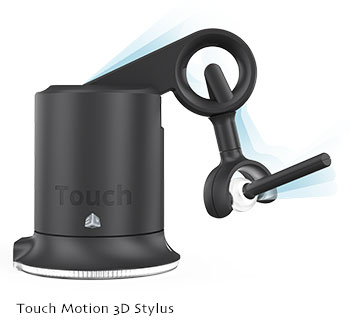 The base package in this series of products is called Geomagic Sculpt, which comes with the free 3D Stylus (while supplies last). It has a collection of simple but powerful tools which are easy to understand and get going with. The basic idea is that when your parts are made from virtual clay that you can push and pull on interactively, feeling what you're doing as well as seeing it, you have a much better degree of control over exactly how their shapes evolve and interact. The inherent ambiguity of seeing a shaded representation of your part and trying to deduce how the form really is shaped is much reduced when you can actually feel it—you can actually work on parts of your model you can't see in the viewport. 3D models can be imported from 3D scanners or other programs as STL, PLY or OBJ, and converted to the program's native voxels (volumetric pixels) for styling and elaboration. In the latter two formats, vertex color information is also transferred into the application. One can create forms directly in the program using either basic "primitive" shapes and modifying them with the program's carving and smudging tools, or start with closed linear shapes, inflating, revolving, extruding, and cutting them with other shapes constructed in the program's Sketch function. There are tools for smoothing and shaping, mirroring, attracting for embossing and texturing the clay using graphic images, tools for tugging on the surfaces or decimating large models for easy export. It's even possible to paint directly on the clay with "brush" or "airbrush" tools, or to apply photographs to their surfaces. 3D curves can be imported into the program as IGES or Adobe Illustrator (ai), or curves can be drawn on the clay parts and exported as IGES for surfacing in another program. With the TextureKiln function, it's possible to "bake" a high-res model onto a low-res armature, so that highly detailed models can used for creating highly detailed animations (in an animation program) without bogging down your system. Once exported to mesh formats (OBJ, PLY, STL and ZCP), models created in Sculpt can be used directly for 3D printing, or run through a CAM program for carving on a CNC machine.
Geomagic Sculpt and the 3D Stylus Haptic Device
(Software only; includes 1 year software maintenance)
List Price: $3,900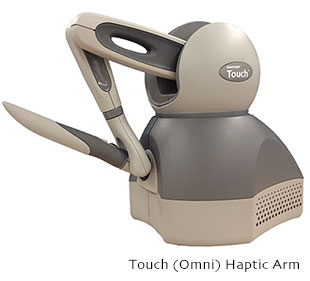 The next level of functionality is represented by Geomagic Freeform, which can support either the Touch or the higher-quality Touch-X arms, and adds a panel of subdivision modeling tools, making sharper edges and corners than can be achieved with voxel modeling alone possible. It also has a greater range of carving tools, like razors, knives and scrapers, and more ways of manipulating the "clay", including Toothpaste—a continuous stream of material, and Pipe, which adds material around any curve. One can also modify the clay by adding and moving curves, emboss along a curve, or distort the whole part with a cage. Powerful patterning functions allow sub-parts to be arranged regularly or individually on the surface of a master part, and annotation tools allow the user to pin notes to any part so that data pertaining them can be preserved along with the model file. It's possible to distort the model in various ways, including a cage deform. The latest Freeform 2020 now includes hole filling techniques, automatic mesh repair, feature fitting and alignment, and mouse support, which enhance its ability to manage scan data in Freeform's unique haptic modeling environment.
Here are some videos showing how the system works for various tasks like cleaning up and integrating scanned data, using subdivision surfaces, and industrial design.
Click this link for more information on Freeform from the manufacturer's site.
Geomagic Freeform 2020 and the Touch Arm Haptic Modeling System
(includes one year's maintenance and hardware warranty)
List Price: $9,900
Our Discount Price: Email for Price Quote or call (510) 568-4298
Geomagic Freeform and the Touch X Arm Haptic Modeling System
(includes one year's maintenance and hardware warranty)
List Price: $19,500
Our Discount Price: Email for Price Quote or call (510) 568-4298
The highest-level haptic hardware-software system we offer is Geomagic Freeform Plus, which includes advanced tools for mold design and manufacturability, making tasks like constructing split joints, cores and mold cavities, or generating parting surfaces and mold inserts much simpler. It has the ability to create surfaces of NURBS patches spanning intersecting curves created on the "clay" surfaces, so very smooth results are possible. It has enhanced capabilities for measuring mass properties and analyzing piece-to-piece fit. New in last year's 2019 release is the Dynabar, which allows users to record a series of actions they do frequently and repeat them with a single command. It's also available with the deluxe Touch-X arm as well as the Touch.
Here's a brochure that explains a little more about how these devices work.
Here is more information on the Features of Freeform Plus on the manufacturer's site.
Manufacturer: 3D Systems
Geomagic Freeform Plus 2020 and the Touch Arm Haptic Modeling System
(includes one year's maintenance and hardware warranty)
List Price: $18,500
Our Discount Price: Email for Price Quote or call (510) 568-4298