DeskProto Jewelry Fixture
Wax Ring Kit
If you want to take full advantage of the 123 Wax Ring Wizard that comes with the DeskProto 7.0 Multi-axis Edition, there is now a kit with cutters, pre-formed wax discs (you can make your own if you want), a fixture for the rotary table, and an adapter to the Sherline rotary table (Roland rotary tables don't need an adapter). This solid little fixture holds the wax firmly in three positions, so it can cut a ring along its periphery, and then cut to the inside of the ring from two sides, so all it needs is to be cut free from a central hub. The Wizard makes everything quite straightforward, so all one has to do is get the tool accurately located and it does the rest. As well as rings, it also lets you cut small parts like charms or pendants from two or more sides.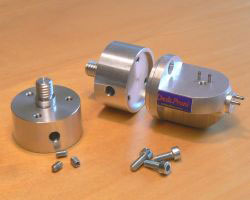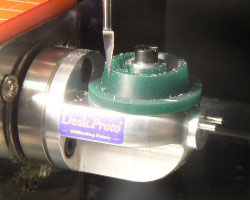 Here's some more information on the system from the manufacturer's website.
The hardware is delivered as a complete set, the 123WaxRing kit, which allows you to start immediately. It includes:
one fixture
a manual
two conical cutters
16 wax disks
Manufacturer: Delft Spline Systems
Version Sold
DeskProto's 123 Wax Ring Kit
Includes Adapter and Fixture
As these products need to be shipped, please furnish your address for a shipping quote.
List Price: €345
Our Price: $345