To its everlasting credit in these days of ever-shrinking budgets, the Public Library of Benicia California has maintained its art gallery as a separate exhibition space with an ambitious program that has showcased many artists of outstanding quality over the years. The current show, featuring the work of Stan Dann, may be the best one yet. Consisting of shaped and colored wooden pieces assembled in frames, these constructions accomplish what great art is supposed to do—make one see the world through new eyes.
Starting with his sketches—of suburban landscapes, interior scenes, and compositions of mundane or natural objects—he transfers their predominant linear elements to laid-up slabs of wood and cuts along the lines as if making a jigsaw puzzle. But instead of leaving the pieces flat, he painstakingly transforms each of them into sculptural elements, which are reassembled to form sculpted pictures with a marvelously fresh and often whimsical presence.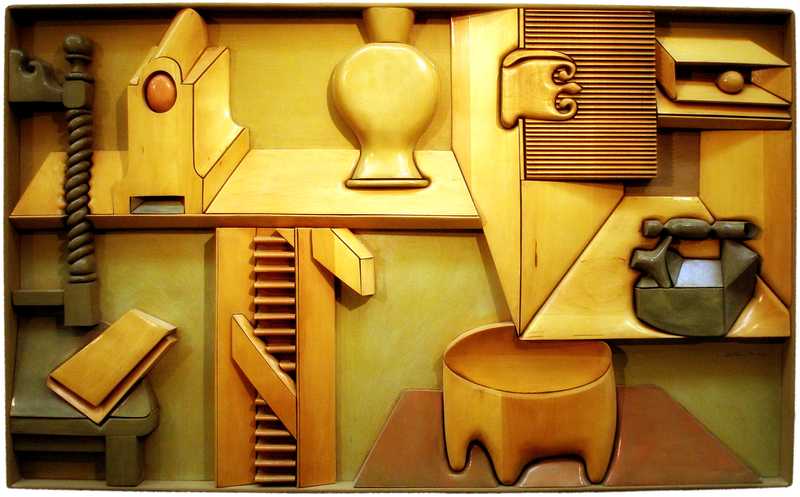 In one piece named "Foyer" he represents, reconstructs, and reimagines the interior entrance to his home, transforming it into a unified composition that simultaneously flattens the scene while bringing its components out into the third dimension. The result is an Escheresque visual paradox in which foreground objects slice into their backgrounds and conventions of perspective are flouted with utter impunity.
While most of the pieces in this show remain anchored in reality, and most objects are recognizable even when transformed, this is not the case with all of them. "Flora" is an intriguing piece that echoes the forms of nature without precisely duplicating any; it's the most abstract piece presented here, where one sees most clearly the artist's ability to construct and arrange sculptural forms that interlock and interweave while rhythmically reinforcing one another. In "Ringing the Hobs," one gets the sense that he started with some familiar household objects, but has metamorphosed them with his artistic wizardry into strange and exotic semi-animate beings.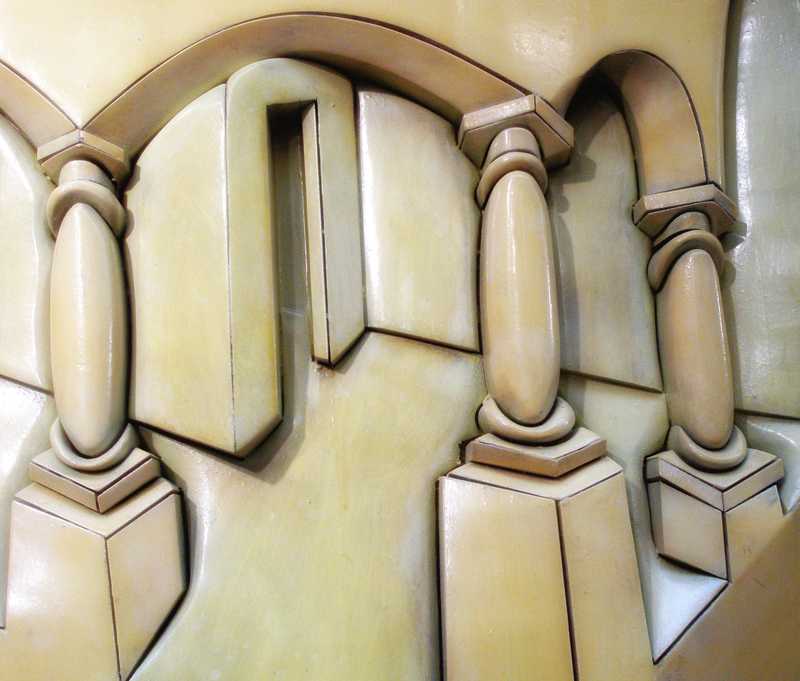 The majority of the works on view here, though, are based on the architecture of California's suburban neighborhoods, places the artist has obvious affection for, which he interprets for us in a way all his own. In "Martinez #1" the scooped-out street resembles a child's slide while the buildings that line it take on the aspect of a child's game or train layout from the 1950s. In "Neighbors," he lovingly articulates the scrollwork of a metal gate, and embues the humble columns of a porch with more beauty than one would ever imagine they possessed. But "Martinez #5" has a more ominous quality, as if the house portrayed rather literally here has become detached from its surroundings, which seem to be in a state of flux, tending towards chaos and ruination.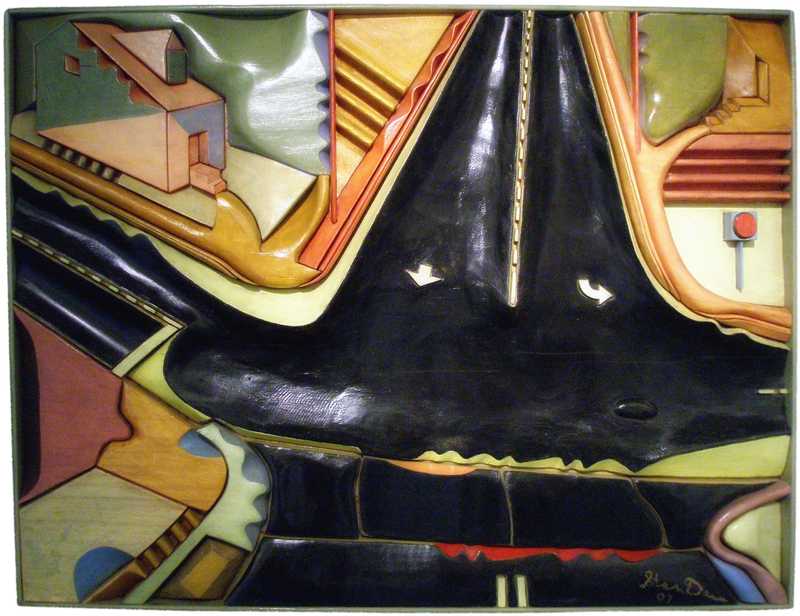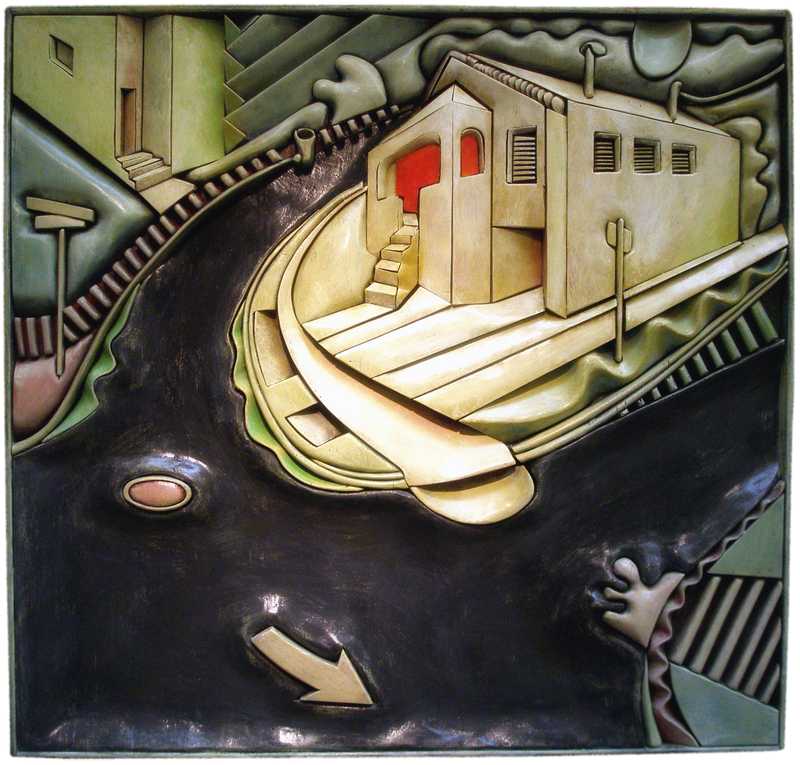 Dann's work, while certainly not unknown, deserves a lot more fame and attention than it has received. Perhaps some of the fault for this is his own, since he didn't turn to art full-time until after he retired from a successful career as a commercial sign-carver. But the technical skill and unique vision he has honed, and his prolific, consistently excellent output over many years, should guarantee him a position alongside the great artists of our time.
Benicia Public Library
150 East L Street
Benicia, CA 94510
(707) 746-4343
Andrew Werby