Production Equipment & Milling Machines
Table of Contents
Introduction
Once you've scanned in or modeled a 3D form, these are the machines that turn it into a real physical object. Milling machines do this subtractively; a block of material is held tightly to the bed of the mill or in a fixture, then rotary cutting tools systematically remove everything that isn't your part. CNC lathes work similarly; the workpiece is spun while a moving tool removes successive layers of material until a radially symmetrical part is produced. All these machines need toolpaths to follow, which are generated by CAM programs based on the tool being used, the material being cut and the fineness of material removal desired.
Additive rapid prototyping machines (3D Printers) work differently; these machines build up a form by applying material in layers, based on "slicing" software that analyzes your model and generates instructions for the machine to follow in reconstructing each horizontal section, one layer at a time.
Taig Tools Micro Mill
"Overbuilt" Manual and CNC Milling Machines

The Taig Micro Mill is an "overbuilt" miniature milling machine. The liberal use of steel in its construction affords superior rigidity and the ability to work on hard metals. It is equipped with a 6-speed pulley system, which yields spindle speeds from 525–5,200 rpm on the manual machine, or 1,000–10,000 RPM on the CNC or CNC-ready models. The working axis travel is 9.5 inches in the x axis for the 2018 or 2026 models (or 12 inches for the Larger Envelope 2019 or 2027 models), 5.5 inches in the y axis, and 6 inches in the z axis. The table size is 3.5″ × 15.5″ on the standard model (2018 or 2026) or 3.5″ × 18.5″ on the LE models (2019, 2027, and DSLS 3000). The Larger Envelope is particularly handy if you're using their 4th axis attachment, which takes up some space on the bed.
An ER-16 spindle is now standard for all Taig models; the collets are standard and widely available, they have more capacity (up to 3⁄8″) and are available in metric sizes as well as Imperial.
These machines are sold in several versions:
There's a manual version with hand cranks and calibration dials that comes factory assembled. (

Model 2018

or

Model 2019

) It comes with a slower motor, but you can upgrade to the continuous-duty motor used in the CNC versions for a little extra money.
There's a "CNC-Ready" version (

Model 2018 ER CR

or

Model 2019 ER CR

), factory assembled, with ball bearings in lead screw bearing blocks, adjustable leadscrew nuts, couplers, and

Nema

23 motor mounts. This unit does not include stepper motors or a control system. Handcranks are available, but they aren't very useful for milling, since the calibration dials have been removed to make space for the stepper motors.
There's a fully CNC-equipped version (

Models 2026 ER CNC

and

2027 ER CNC

), with 200 oz-in stepper motors on the x, y, and z axes; Mach3 control software, and a sophisticated bi-level chopper driver capable of 30 inch per minute speeds in single-axis rapid traverse mode.
There's also a Mill with a Digital Servo Lock System from

Taig

/Microproto which is only offered on the larger LE frame size.
This latest model is called the DSLS 3000, for the Digital Servo Lock System controlling it. This uses optical encoders mounted on the stepper motors to keep track of their position as motion commands are executed, which allows the system to stop with a "limit switch" error if the position is off more than a certain small amount. This can save a valuable part from destruction should an unexpected error occur. We've been testing it, and found that this system runs reliably given a feedrate of 50 inches per minute, about twice as fast the standard system, which is useful for those who use the mill to cut plastics and other soft materials. It comes with the ER spindle and two collets, a relay box for software controlled spindle on-off (with M3/M5 commands) and another 110v accessory, such as a dust collector or mist coolant pump, you plug into the auxiliary 110v receptacle (using M8/M9).
This system also includes a license for Mach3, the popular CNC control software that runs in Windows and converts your parallel port-equipped computer into a dedicated CNC controller. Here's some more information about it on the manufacturer's site.
4th Axis now available
For $600 more (at list) you can , add a rotary fourth axis to the 2026 ER CNC or the 2027 ER CNC mills. or for $700, you can add it to the DSLS 3000. The standard way to set it up is parallel to the long (X) axis like the rotisserie spit on a grill. This includes a high-quality rotary table (made by Sherline) with a Taig-compatible mounting plate, a stepper motor compatible with your CNC system, and a dead-center tailstock to support the far end of your workpiece as it's cut in "A" axis rotary mode.
Taig has a good collection of accessories for their mills; see the Taig accessories page for a list (items marked with an asterisk * are suitable for the mills). We're an authorized dealer for Taig Tools products and can offer these and other products found on the Taig Tools site, including any accessories when purchased with a mill, for 10% off list price. (This offer is limited to customers in the USA.) Please email us for pricing on any Taig Tools products, accessories or lathes that aren't featured here. We also can sell these tools worldwide—call or email us for a shipping quote to your location.
Hold-Down Kit
We also sell a nice third-party hold-down kit for the Taig, with studs, spherical nuts, T-nuts and 4 strap clamps; see below for pricing.
Manufacturer: Taig Tools
Versions Sold:
2018 ER "Manual"
List Price: $819
2019 ER "Bigger Manual"
List Price: $947
2018 CR "CNC-Ready"
List Price: $1,128
2019 CR "Long-Bed CNC-Ready"
List Price: $1,182
2026 ER CNC-equipped
List Price: $2,295
2027 ER "Long-bed", CNC-equipped
List Price: $2,495
2027 DSLS 3000 "Long-bed CNC Mill with New Closed-Loop Control"
List Price: $2,995
4th Axis for the 2026 or 2027 Models
List Price: $600
4th Axis for the DSLS 3000 Models
List Price: $700
Hold-down Kit for Taig Mills
Sherline Products
High Quality Miniature Tools and Accessories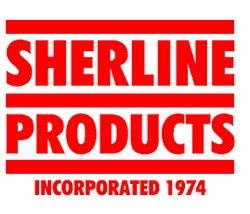 Sherline miniature machine tools have long been prized by modelmakers, hobbyists, and jewelers for their precision, performance, and low prices which they have maintained although continuing to manufacture in the USA. Boasting a large range of accessories in hard-to-find small sizes, they have brought accurate machining within the range of thousands with neither the space nor funds to contemplate this before. The Sherline catalog features an enormous range of products, some hard to find otherwise. Although we're only featuring a few of their items on this page, we offer a discount on the full range of Sherline products (with the exception of their Linux-based computers), so browse Sherline.com and if you have any questions or when you're ready to order, just call us or send us an email.
Sherline 5400 CNC Mill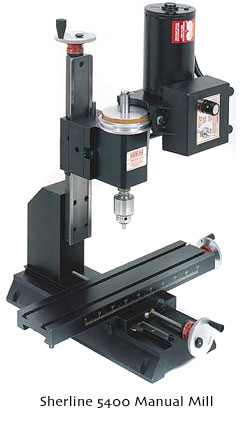 An excellent choice for jewelers and miniature model makers, the Sherline 5400 CNC Mill is equipped with a powerful ¼ HP variable-speed DC spindle motor for smooth speed changes on the fly. The control box comes ready to hook up four stepper motors, if you decide to upgrade with the 4th axis rotary table. Sherline supplies their own version of the open-source Linux CNC (EMC) software, which works on Linux operating systems. This allows you to run the mill and avoid the necessity of having to purchase Windows for your shop computer. While there are other configurations of these mills that are useful for various machining tasks, the 5400 model is the one we recommend for CNC, as it is more rigid and will require less adjustment to keep in tram.
The Sherline 8770 CNC Upgrade Kit for existing 5000/5400 series mill includes three Sherline 67127 Stepper Motors, the Sherline 8760 4-Axis Driver Box, power supply, cables, and the EMC software for Linux on CD. You connect your computer (not included) to the driver box using a 25-pin parallel cable (included) attached to your computer's parallel port.
A 4th axis rotary table made by Sherline is available for these mills which is usually set up parallel to the x axis. It is usually advisable to support the far end of the workpiece, using the Sherline right-angle adjustable tailstock listed below.
We sell these tools at a discount for U.S.-based customers along with any accessories ordered at the same time, and at list prices to customers worldwide. Please contact us for a shipping quote to your location.
Manufacturer: Sherline Products
Version Sold:
Sherline 5400 CNC-Ready Mill
(note: we don't supply a computer with this mill.)
List Price: $1,030
Sherline 8770 CNC Upgrade Kit
List Price: $805
#8730 Sherline 4th axis CNC Rotary Table with Stepper Motor
List Price: $395
Our Discount Price: $375 (when ordered along with a mill)
#3702 Right Angle Adjustable Tailstock
List Price: $75
Sherline's CNC Lathes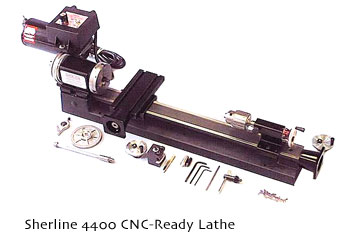 Sherline is best-known for their lathes which, though small, are well engineered and supported with a full range of accessories. The 3.5″ × 8″ 4000 is the smallest of them, suitable for jewelry, watchmaking and miniature modelmaking. The longer 4400 lathe has a 3.5″ swing and 17″ between centers, making it useful for small to medium-sized projects. Like all Sherline's machines, these lathes are available in metric or Imperial versions. The metric version of the 4000 is called the 4100, the metric 4400 is the 4410. Both include Sherline's variable-speed ¼ HP DC motor, so speed can be controlled with a twist of the dial.
These lathes are available with several packages of accessories, which save money over buying them all separately.
The "A" package includes a 3-jaw chuck and tailstock drill chuck. The 4000A/4100A lathes come with a 2.5″ 3-jaw chuck and a ¼″ tailstock chuck.The 4400A/4410A lathes come with a 3.1″ 3-jaw chuck and a 3⁄8″ tailstock chuck
This package of accessories adds $100 to the list price of the 4000 lathe, $80 to the list price of the 4000 CNC lathe, and $125 to the list price of the 4400 or 4400 CNC.
The "B" package includes all the accessories in the "A" package, and adds the #1074 Steady rest, #1191 Live center, #3002 Cutoff tool and holder, #3007 3-piece ¼″ HSS cutting tool set (LH, RH and Boring tools), #30205⁄32″ Hex T-driver, #3021 3-piece center drill set and the #5327 Sherline Accessories Shop Guide book.
This package of accessories adds $275 to the list price of the 4000 or 4000 CNC lathe, or $305 to the list price of the 4400 or 4400 CNC lathe.
The "C" package includes everything in the A and B packages, and adds the #1270 (or metric #1280) compound slide and the #3100 thread cutting attachment. This package of accessories adds $515 to the price of the 4000 or 4000 CNC lathe, or $545 to the price of the 4400 or 4400 CNC lathe.
We also can supply compatible 3rd-party accessories such as a quick-change toolpost and riser blocks to further extend the lathe's functionality.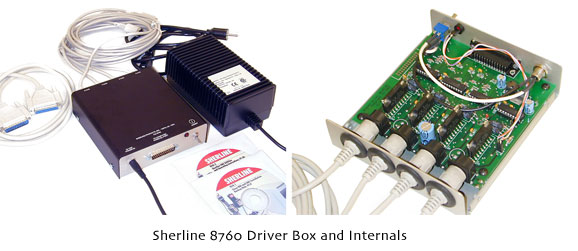 The Sherline 8765 CNC Upgrade Kit adds two Sherline 67127 Stepper Motors, the Sherline 8760 4-Axis Driver Box, power supply, cables, and the EMC software for Linux on CD, transforming the CNC-ready version of either lathe into a full CNC machine.
You connect your computer (not included) to the driver box using a 25-pin parallel cable (included) attached to your computer's parallel port. The CNC version runs on the same control system and software as the mill, so it's possible to save money by switching leads and running both machines with the same box and computer, if you purchase both the CNC lathe and mill.
Manufacturer: Sherline Products
Versions Sold:
Sherline 4000 Imperial Lathe (manual)
List Price: $600
Sherline 4100 Metric Lathe (manual)
List Price: $600
Sherline 4000 Imperial CNC-ready Lathe with 2 stepper motor mounts
List Price: $800
Sherline 4100 Metric CNC-ready Lathe with 2 stepper motor mounts
List Price: $800
Sherline 4400 Imperial Lathe
List Price: $700
Sherline 4410 Metric Lathe
List Price: $700
Sherline 4400 CNC-ready Lathe
List Price: $880
Sherline #8765 CNC Upgrade Kit
(for either Model 4000 or 4400)
List Price: $730
Roland's MDX-20
Combination Touch-Probe Scanner and Milling Machine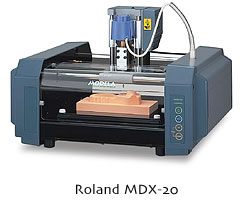 Roland Digital Group makes a series of machines for capturing surface data from objects and then carving them from solid material. We own and use an MDX-20 ourselves, and we've found it a very useful tool for what we do. This is a combination unit, a touch-probe scanner and light-duty milling machine in one integrated package with a working envelope of 8″ × 6″ × 23⁄8″. A fine and sensitive piezo-electric scanning needle records even delicate objects without damage or distortion and stores them as polygon mesh surface data which can be exported to other programs or milled out using the cutting spindle of this versatile machine. Roland's Dr. Picza scanning software, CAM GL and Dr. Engrave milling software is included with the MDX machines.
Manufacturer: Roland Digital Group
Versions Sold:
ACT's Desktop Machining Center III Bridge Mill
High specs and Metal-Cutting Capabilities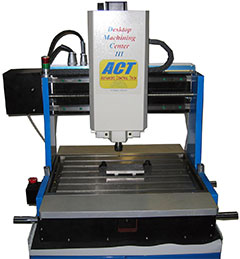 Advanced Control Tech of Granada Hills California produces a high-quality Desktop Machining Center that is capable of fine work in metals up to and including mild steel. This fills a niche that hasn't had many entrants—a compact but tight machine for cutting a wide range of materials to high tolerances. It's considerably heavier than other desktop mills, but is still something that two (relatively strong) people can pick up. The "bridge" design, with the X and Z axes running on a fixed beam while the tee-slot table underneath moves the Y axis, makes it possible to hold high tolerances. Since the bridge doesn't need to move, it can be built more heavily than a gantry, which has to move while also supporting two moving axes.
High quality components—precision-ground zero-backlash ball-screws, 20mm square-section linear rails, and a lot of cast iron and steel—were used throughout, so motion is smooth and sure. Homing switches give a repeatable start point to reference from. The control system used is the highly-regarded Mach3, which makes it possible to use a regular Windows PC (included with Mach3 pre-installed) instead of an expensive dedicated machine controller to run the machine. This is a good base machine for customization, since its T-slot table is suitable for flood coolant, and it can easily be fitted with a range of alternate spindles suitable for different tasks. If you've been waiting for a high-spec metal-capable CNC mill to come out for an affordable price, this might be just what you've been holding out for.
Specifications
Weight: 260 lbs
Overall Dimensions: 27″ × 30″ × 31″ H (on supplied cabinet)
Axis Travels: 12″ X, 8″ Y, 6″ Z
Rapids: 60″/min
Control System: ACT's proprietary microstepping drives
Spindle: ER-11 collets up to 10mm (

3

⁄

8

″), Belt Drive

1

⁄

3

HP DC Brushless Motor, variable 1500-12,000 RPM
Machine Repeatability: .0001″
Accuracy over Machining Area: .001″
Table Area: 22″—20 with 5 each

7

⁄

16

″ Tee-slots
Supplied with computer, Mach3 license, spindle wrenches, 2 metric cutters, 5 metric collets, and 4 tee-slot clamps.
Manufacturer: Advanced Control Tech
Version Sold: